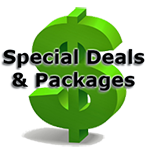 Turnkey Solutions for Common Applications
We've combined some of our most common float switches and liquid level control products into complete easy to order package solutions. Float level switches are always used in combination with other devices or equipment to provide a clear indication of the liquid level or automatically control another piece of equipment like a pump, valve, or heater. Single level float switches are low cost and convenient to mount in the top or bottom of any tank. They can also be extended down to any desired level with standard pipe and pipe fittings. To control your liquid level with two floats on one single shaft choose our made to order custom multi-level float switch. Tell us your length and float positions and we will make it for you.
If the float switches included with these packages are not compatible with your liquid or tank size please give us a call and we will work with you to come up with a suitable substitute.
We specialize in custom made to order float switches. If you need something longer or multiple float level switch points on a single shaft click the customize button below.