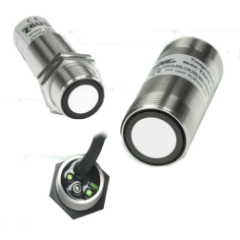 Details
These ultrasonic distance sensors provide highly accurate continuous Level measurement of most any liquid or solid material. The ULS is capable of sensing depths of up to 30feet! Various outputs are available including 4-20mA and 0-10volt. A convenient push button "teach" features allows field programming without the need for a computer. The housings are 316 stainless steel and rated NEMA 4X submersible. The sensor sends out a sound wave toward the media in a pulsed fashion. The sound wave hits the media and reflects that sound back to the sensor. The sensor calculates the time it took for the sound to travel to determine the distance from the sensor to the media.
Key Points
Sensing range up to 30ft
Highly accurate
Various outputs
Rugged construction
Small form factor
Delivery
Typical lead time is 5-7 business days.