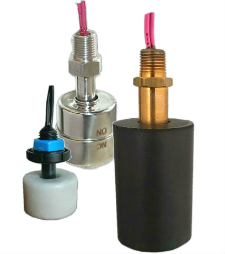 Details
Vertical float switches are a great solution for high and low level alarms or controlling a switch in a versatile and economical way. Vertically mounted float switches can be installed in either the top or bottom of the tank, depending on your use. These standard single level float switches are available with either ¼" NPT or straight thread mounting options. SPST and SPDT reed switch options and longer length lead wires are available upon request. Our float level sensors can be constructed of stainless steel, polypropylene, PVC, and teflon.
Key Points
Various materials of construction
Small sizes
High and low level switch
Great for OEM's
Quick shipping
Delivery
Typical lead times are 1-3 business days.
What We Offer…
Standard single level – Vertical – Stainless steel float switch
These level switches are ideal for high temperature and pressure applications. The rugged construction allows for the sensors to be used for reliable switching in a wide variety of chemicals, oils, and water even in harsh environments. Their operating temperature is -40F to 300F, with a range of maximum pressure, from 150 – 750 PSI
Standard single level – Vertical – Polypropylene float switch
Polypropylene allows for a low cost switch while still offering a high volume use with reliability and compact size. They have broad compatibility with various chemicals, oils, and water, with a max pressure of 150 PSI and operating temperature of -40F to 212F and -15F to 175F depending on the model.
Standard single level – Vertical – PVC & Teflon float switch
The PVC provides similar advantages as polypropylene but differs with a max PSI of 50 and an operating temperature of 140F in water and -40F to 230F in oil.
Teflon is ideal for ultra pure, highly corrosive applications. The non-stick nature of of PTFE resists the buildup of foreign materials and sticky media. Our teflon float sensors have a max pressure of 25 PSI at 150F but an operating temperature range of -40F to 375F.
Stainless Steel
Brass & Buna
Plastic