We offer a wide variety of vertical and horizontal liquid level float switches, available in all stainless steel, stainless steel and buna, or plastics such as PVC, polypropylene, or PTFE. These versatile switches can be used in conjunction with high and low level alarms or control switching. There are many different threaded mounting options, reed switch choices including single pole single throw and single pole double throw,  customizable lead wire lengths. These economical single point floats are a great choice for OEM's and are often in stock and quick to ship.
Field assembled float switches are a great choice if you need to customize a sensor in the field or you need it fast and cannot wait for a custom made to order float switch. The complete kit comes with everything needed for a two level sensor, if you require more than two levels additional fittings and switch points can be purchased separately. These versatile float switches are available in brass & buna or stainless steel and are a good choice for many different applications.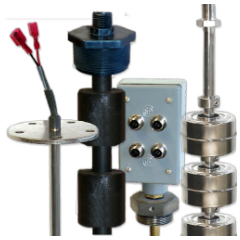 We specialize in custom made to order multi-level float switches, let us know your specific application and we will make a float sensor to your specifications. These sensors are ideal for monitoring multiple switch points, controlling pumps & valves, warning of high or low level alarms, and indicating tank levels.  With the ability to be made from various materials with a vast choice of threading mounting options, our engineers will work closely with you to create the exact liquid level float switch for your application needs.
We offer a variety liquid level sensors including low water conductive and sump pump style float switches. Our specialty floats are made for difficult or demanding applications such as high temperatures, thick or sticky liquids, high turbulence, or difficult mounting. These sensors can be customized and are available in a variety of materials. When a traditional float type level switch doesn't meet your needs, a specialty float may be exactly what you are looking for.